Powerful GIS Application Development
We've done the leg work to make daily tasks for GIS departments and users easy and integrated. Our widgets turn complicated or multi-step tasks into streamlined, easy button tasks.
LOGIC's Energy IQ TDM Integrator is configured for Esri Portal for ArcGIS and integrates with Energy IQ's Trusted Data Manager Server to review in-context status information of single or multiple wells.
Advanced Sharepoint Search and Filter
Integrates with Microsoft SharePoint for spatial document search, allowing users to draw on maps to select one-to-many features and pull back related documents.
Save time panning and clicking in the map by indicating your state, county, township, range and section. Configurable land grid source allows administrators to switch out source grids.
The Advanced Save State Widget gives you the ability to configure a Portal Web App and persist its state. Normally in a Web App, once you close the browser, your changes are gone. But with the Advances Save State Widget, once your map is complete, you can save that configuration and share it with other Portal users.
Daily GIS tasks made easy.
Once you see these little power punches in action you'll understand exactly why we created them!
Streamline how end-users access FME Server Workbenches. From your Esri Enterprise GIS web map Esri Widget, choose the Workbench. The Widget will adjust the user interface for the appropriate inputs and outputs. Then, indicate your selection or area of interest in the map and run your model. Simple and slick.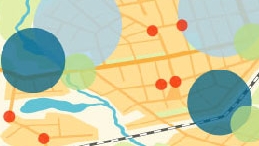 Tibco Spotfire Integrator
Enhance the capabilities of your Tibco Spotfire Web Player by passing information back and forth from a robust pre-published Esri map, and expand your data analysis capabilities.
Tibco OpenSpirit Integrator
Pass geometry events and data events from Esri Portal for ArcGIS map selections to the pre-configured OpenSpirit Server, then to its appropriately configured end point for those events. Bi-directional data flow available.
Advanced Production Summary
Select a group of wells in several ways and immediately view dynamic, visual well production analysis. Simple well selection based on extent, freeform selection tool or filtering by pre-configured well attributes.